420 Stainless Steel
Cada Stainless & Alloys is a major stocking distributor in the USA
---
Properties of 420 Stainless Steel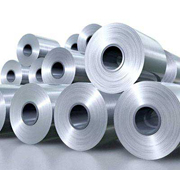 Alloy 420 is a hardenable, martensitic stainless steel that is a modification of Alloy 410. Similar to 410, it contains a minimum of 12% chromium, just sufficient enough to give corrosion resistant properties. Alloy 420 has higher carbon content than Alloy 410 which is designed to optimize strength and hardness characteristics. It has good ductility it the annealed condition but is capable of being hardened up to Rockwell hardness 50 HRC, the highest hardness of the 12% chromium grades. Due to its hardening properties, Alloy 420 is not often welded, although it is possible. Martensitic stainless steels are designed for high hardness and sometimes other properties are to some degree compromised. Corrosion resistance is lower than the common austenitic grades and their useful operating range is limited by their loss of ductility at sub-zero temperatures and loss of strength by over-tempering at elevated temperatures. Its best corrosion resistance is achieved when the metal is hardened and surface ground or polished.

420 MODIFIED ANNEALED STAINLESS STEEL
Type 420 Stainless Steel, a modification of 410, has a higher carbon content to increase hardness, improve strength and give better wear resistance. This type maintains its best corrosion resistance in the heat treated condition. Tempering temperatures above 700° F. are not normally recommended and Type 420 must be preheated before and annealed after welding.

Principal applications: Bushings, Dental and Surgical Instruments, Pump Parts, Valve Parts, and Shafts. Our 420 is not bought or recommended to a cutlery grade.

AlSl 420 Chemistry Only

COMPLETE FACILITIES for Slitting - Shearing - Blanking and Edging. Available in coils or cut lengths. Sizes other than those listed and in all thicknesses .001 and heavier are obtainable and may be ordered for you.

Analysis
C .19-.43
Mn 1.00 Max.
Si 1.00 Max.
P .040 Max.
S .030 Max. Cr 12.5/14.00

420 Stainless / 420HC / 420J2
​420 stainless steel is a high-carbon steel with a minimum chromium content of 12%. Like any other stainless steel, grade 420 can also be hardened through heat treatment. It offers good ductility in its annealed state and excellent corrosion resistance properties when the metal is polished, surface grounded or hardened. This grade has the highest hardness - 50HRC - among all the stainless steel grades with 12% chromium.