Welcome to CADA Stainless & Alloys!

In business for over 35 years, we are ISO 9001:2008 certified stocking distributors of stainless steel strip and coil.

We handle all of the basic grades of stainless such as 201, 301, 302, 304, 304-L, 316, 316-L, 430, 434, 436, 410, and specializing in 420 stainless steel.

Most grades can be purchased in the annealed or tempered condition.

If your company uses stainless, please give us the opportunity to quote. We can be very competitive, especially in the 500# to 4000# range. Smaller quantities are welcome.

We also has the ability to outsource other nickel and high temperature alloys. Some of these items include specialty stainless steels, monel and nickel alloys.

Please give us a call and see if we can become one of your valued suppliers.

845-469-3899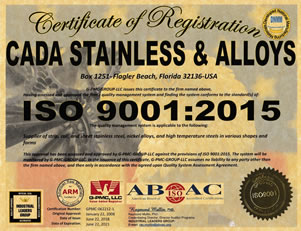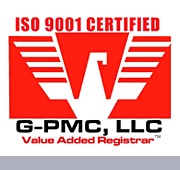 ---
About Stainless Steel

Stainless steel is an iron-containing alloy has excellent resistance to stain or rust making it the metal of choice for use in the manufacture of food handling, processing, storing, cooking, and serving equipment. Advantages include easy cleaning, good corrosion resistance, durability, economy, food flavor protection, and sanitary design. Milk, wine, beer, soft drinks and fruit juice are processed in stainless steel equipment.

Stainless steel is also widely used in bulk materials handling equipment, building exteriors roofing, automobile components (exhaust, trim/decorative, engine, chassis, fasteners, tubing for fuel lines), chemical processing plants (scrubbers and heat exchangers), pulp and paper manufacturing, petroleum refining, water supply piping, consumer products, marine and shipbuilding, pollution control, sporting goods (snow skis), and transportation (rail cars), etc.

Stainless steels can contain anywhere from 4-30 percent chromium, however most contain around 10 percent. Stainless steels can be divided into three basic groups based on their crystalline structure: austenitic, ferritic, and martensitic.
Martensitic Grades
Martensitic grades are magnetic and can be heat-treated by quenching or tempering. Martensitic steels are not as corrosive resistant as austenitic or ferritic grades, but their hardness levels are among the highest of the all the stainless steels.

Ferritic Grades
Ferritic stainless steels are magnetic non heat-treatable steels that contain chromium but not nickel. They have good heat and corrosion resistance, in particular sea water, and good resistance to stress-corrosion cracking. Their mechanical properties are not as strong as the austenitic grades, however they have better decorative appeal.

Austenitic Grades
Austenitic stainless steels are non-magnetic non heat-treatable steels that are usually annealed and cold worked. (Some tend to become slightly magnetic after cold working). Austenitic steels have excellent corrosion and heat resistance with good mechanical properties over a wide range of temperatures.
Stainless steel is a common and versatile metal that does not stain, corrode or rust easily. It is also known as corrosion resistant steel or chromium steel and is defined by the fact that it is alloyed with a minimum of 10% chromium.

Stainless steel is used to make consumer goods, including domestic kitchen supplies and tableware, sinks, laundry equipment, flatware and electric appliances and in the food and beverage industry to make silos, vats, kegs and large kitchen equipment.

Stainless steel is also found in the construction and engineering industries as roofing, gutters, elevator doors, public seating and is used to build large skyscrapers. Automotive parts, bus frames, pipes, valves, pumps and industrial mixers are also often made out of stainless steel.

Stainless steel alloys develop a passivation layer of chromium oxide on their outer surface, effectively coating the steel and protecting it from the harmful oxidation that occurs between exposed iron and oxygen molecules in the air, which makes stainless steel more effective and attractive than regular steel. This protective layer of chromium oxide easily reforms when scratched, making stainless steel an excellent, durable solution with no surface cracking or pores.
---
301 / 302 / 304 / 304L / 305
300 Series stainless steels are classified as austenitic, and are hardenable only by cold working methods. These grades of stainless have chromium (approx. 18 to 30%) and nickel (approx. 6 to 20%) as their major alloying additions. Type 304  is the most widely used alloy of all stainless steels. 300 Series Stainless steel alloys resist corrosion, maintain their strength at high temperatures and are easy to maintain.
​
316 / 316L / Annealed +Tempered
Cada Stainless is a full line supplier and processer of stainless steel coil, sheet, plate, bar, and strip products.  We stock over 35 grades of stainless steel, including 300 and 400 series stainless, annealed and in various tempers and high temperature grades, for shipments worldwide.
---
410 Stainless
Stainless steel 410 is a basic martensitic grade which contains 11.5% chromium, offering both exceptional wear and corrosion resistance. SS 410 is corrosion resistant to some chemicals, food, mild acids, water, and air. It also proves adequate resistance to nitric acid, concentrated sulfuric acid, dilute acetic acid and naphtha. Elevated mechanical properties and corrosion resistance are achieved with stainless steel 410 when it's hardened and tempered.
420 Stainless / 420HC / 420J2
​420 stainless steel is a high-carbon steel with a minimum chromium content of 12%. Like any other stainless steel, grade 420 can also be hardened through heat treatment. It offers good ductility in its annealed state and excellent corrosion resistance properties when the metal is polished, surface grounded or hardened. This grade has the highest hardness - 50HRC - among all the stainless steel grades with 12% chromium.